NOSM learners attend OMSW
Posted on November 8, 2018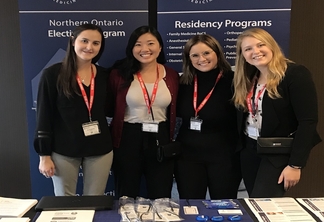 First-year medical students Brooke Mathias, Zoey Yao, Morgan Lafontaine and Emma Goddard (pictured left to right) were among several MD students from the Northern Ontario School of Medicine (NOSM) who took part in this year's Ontario Medical Students' Weekend, hosted by the Ontario Medical Students Association (OMSA).
The Ontario Medical Students' Weekend is an annual event that brings together medical students from all Ontario medical schools to learn about various topics related to medicine.  The 2018: "Legacies of Leadership" conference was held on November 2 and 3 in Ottawa, with approximately 600 Ontario medical students in attendance. This year's event included keynote presentations focusing on Leadership in Indigenous Health, Medical Research, Medical Education, Global Health, and the Canadian Armed Forces. The MD students also participated in various interactive sessions, such as the Stand Up for Health, Point of Care Ultrasound (POCUS), Wilderness Medicine, Imaging, Suturing, Intubation and Vitals, and Casting workshops.
NOSM also participated as an exhibitor in the MedExpo portion of the event, showcasing our residency programs and elective opportunities to those who attended.
To learn more about the Ontario Medical Students' Weekend, visit 
omsw.ca
.