Summit Creates "Made in the North" Strategies to Strengthen the Physician Workforce in the North
Summit Creates "Made in the North" Strategies to Strengthen the Physician Workforce in the North
Posted on January 25, 2018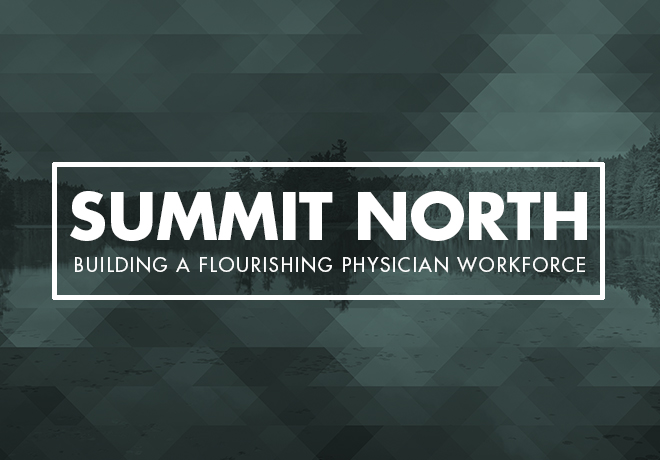 The Northern Ontario School of Medicine (NOSM), HealthForceOntario (HFO) and the North East and North West Local Health Integration Networks (LHINs) joined forces to host Summit North: Building a Flourishing Physician Workforce on January 24.
With more than 130 health system partners in attendance, the summit focused on solutions in the short and long-term to help build a sustainable physician workforce, with a focus on family physicians in rural and remote communities.
Representatives from communities across the North, including Indigenous and Francophone, were in attendance with those from hospitals, family health teams, the North East and North West LHINs, NOSM, HFO, the Ministry of Health and Long-Term Care, and the Ontario Medical Association.
A key objective of the summit was to gather innovative ideas from a wide-range of Northern stakeholders including health professionals and administrators, policy makers, the medical school and municipalities. The summit was the result of on-going conversations between the LHINs, NOSM and HFO.
Participants had the chance to learn about innovative health workforce models in other jurisdictions, the current physician need in the North, and findings on how to improve health-care access and equity for rural communities. Most importantly, participants took part in lively breakout groups, committing to actions to support the creation a robust physician workforce in the North. Furthermore, a commitment was made to create a broad based Task Force to ensure that the actions from the Summit are realized.
Building health workforce capacity in the North and introducing innovative models of care will lead to increased access to care for patients and greater equity for rural communities.
Quotes
"It is only through the collaborative effort of all system partners that effective solutions can be developed to address persistent health workforce challenges."
Dr. Paul Preston, VP Clinical, North East LHIN
"The commitments from every individual and organization at the Summit is what will really lead to change."
Dr. Sarah Newbery, VP Clinical, North West LHIN
"NOSM was created with an explicit social accountability mandate to help improve the health of Northerners and this event was really about improving patient access to care across the North."
Dr. Roger Strasser, Dean and CEO of NOSM
"There's an ongoing need to bring people together. We and our partner organizations are committed to continuing to work together to build on the momentum of this event."
Roz Smith, Executive Director of HealthForceOntario
Dr. Roger Strasser, Dean and CEO of NOSM, interviewed Dr. Dennis Lennox– recently retired Director of Rural and Remote Medical Services for the State of Queensland– so that participants might see what can be learned from his experience and how is it relevant to Northern Ontario. Watch the interview with Dr. Lennox here.
Media contact:
Hugh Mullally
Manager of Communications, Engagement and Stakeholder Relations
North West Local Health Integration Network
Phone: 807-684-9425 Ext 2013
Mobile: 807-472-4281
Email: hugh.mullally@lhins.on.ca
Michael Ward
Communications Officer
North East Local Health Integration Network
Phone: 1-866-906-5446 x 5200
Email: michael.ward@lhins.on.ca
Dave Mackey
Director, Community Supports
HealthForceOntario
Phone: 416-945-5911
Email: d.mackey@healthforceontario.ca