The Postgraduate Medical Education Wellness Program
Residency is a unique opportunity to learn, grow and set the stage for the rest of your career. Residency also has its challenges. While you will face high expectations, the NOSM University Postgraduate Wellness program aims to ensure you also have a high degree of support. The mission of the Wellness Program is to assist our residents in achieving the knowledge and skills to develop healthy and productive professional identities during this important transitional time. The framework of the program includes occupational/academic health, physical health, emotional health and social health.
Our highest priority is providing and coordinating supports for residents who have specific health needs, whether pre-existing or arising during residency. Wellness Program personnel will assist residents with finding and coordinating health resources, as well as working with residency programs to accommodate the learning and training environment if needed. The program also includes proactive components for all residents such as: a wellness curriculum, promoting safe housing and transportation, ensuring your duty hour and leave protections are respected, cultural supports, and guidance with developing a healthy and productive professional identity.
---
NOSM U Well – Resident Wellness App
The Wellness Program has developed a "Residents" section within the interactive wellness app NOSM U Well. The Residents section in the App, delivers easily accessible, secure, up-to-date wellness information to you around the clock, in any setting! View the NOSM U Well app features here, and download the app below: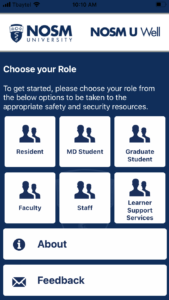 ---
To link to the culture.nosm.ca  I need help section for NOSM University Resident supports.
---
About Us
---
About the Resident Wellness Program
The Assistant Dean of Resident Affairs (ADRA) is responsible for oversight of the Postgraduate Medical Education Wellness Program. The ADRA and Learner Affairs Officer (LAO) represent the wellness interests of all residents to NOSM University and its programs, including providing education, consultation and supports to faculty and administrators. Although the Postgraduate Wellness Program was only started in 2017, it represents an essential resource for residents and clinical fellows. Most importantly for you the postgraduate learner, the ADRA and LAO acts as a confidential resource to PGME learners who need support. If you have a wellness concern that may affect your training, such as discussion of accommodations or return to work processes or to access counselling supports etc., please feel free the Resident Wellness Team as a resource and as a link to other support services. The Resident Wellness Program is also guided by the PGME Wellness Advisory Group which is composed of residents, faculty, staff, and administrators who meet regularly to steer the program and respond to residents' needs. Residency has the potential to be the most rewarding, formative, and enjoyable time of your life. If you are struggling or just scraping by, please do not hesitate to reach out!