NOSM University receives $500,000 gift from Marcel and Frances Labelle Foundation
NOSM University receives $500,000 gift from Marcel and Frances Labelle Foundation
Posted on March 21, 2023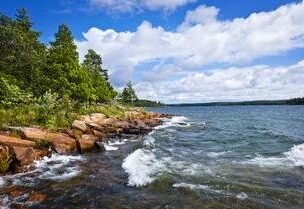 Donation supporting Northeastern MD students will be matched by FDC Foundation 
The Marcel and Frances Labelle Foundation has donated $500,000 to support NOSM University students from Northeastern Ontario. The gift will be matched by the FDC Foundation, creating a $1 million endowment for undergraduate medical students from communities along the Highway 11 corridor, including Hearst, Kapuskasing, Timmins, and Cochrane.
"We are so grateful to the Marcel and Frances Labelle Foundation for their continued vision, generosity and support," says Dr. Sarita Verma, President, Vice Chancellor, Dean and CEO of NOSM University. "Truly, they are investing in a healthier future for all Northern Ontarians."
The foundation, created by celebrated Cochrane, Ontario philanthropists Marcel and Frances Labelle, has a history of supporting health and education in Northeastern Ontario. Notably, the Foundation made a naming gift in 2022 which helped to realize the creation of the Labelle Innovation and Learning Centre at Health Sciences North in Greater Sudbury, an integral partner to NOSM University.
"It's an honour to play a part in the development of doctors to the benefit of citizens of northeastern Ontario," says Ehor Bobby, President, Marcel and Frances Labelle Foundation.
"This foundation understands that students from Northern Ontario are more likely to stay to practise in the North," continues Dr. Verma. "It equally understands that Northern health care is a complex ecosystem, and that many stakeholders must invest wisely to make it work. Backing our students is always a wise investment."
The Marcel and Frances Labelle Endowment Fund will support up to three eligible medical students annually, beginning this year, at a minimum of $10,000 per year.
Since 2005, NOSM University has been delivering on its mandate. It has graduated 838 MDs, 65 of whom are Indigenous, and 171 of whom are Francophone. More than half of NOSM graduates have stayed in Northern Ontario. NOSM University estimates that about 400,000 people have been helped so far by a graduate.
NOSM University has embarked upon a mission to raise the first $50 million for its Student Endowment Fund. Read more about that effort here.
– 30 –
NOSM University is Canada's first independent medical university and one of the greatest education and physician workforce strategy success stories of Northern Ontario. More than just a medical university, it was purpose-built to address the health needs of the region. While advocating for equitable access to care, the university contributes to the economic development of Northern Ontario. NOSM University relies on the commitment and expertise of the peoples of Northern Ontario to educate health-care professionals to practise in Indigenous, Francophone, rural, remote and underserved communities. With a focus on diversity, inclusion and advocacy, NOSM University is an award-winning, socially accountable organization renowned for its innovative model of distributed, community-engaged education and research. 
For further information, please contact: news@nosm.ca