Daring Leadership in an ever-changing and unpredictable world
Daring Leadership in an ever-changing and unpredictable world
Posted on March 25, 2021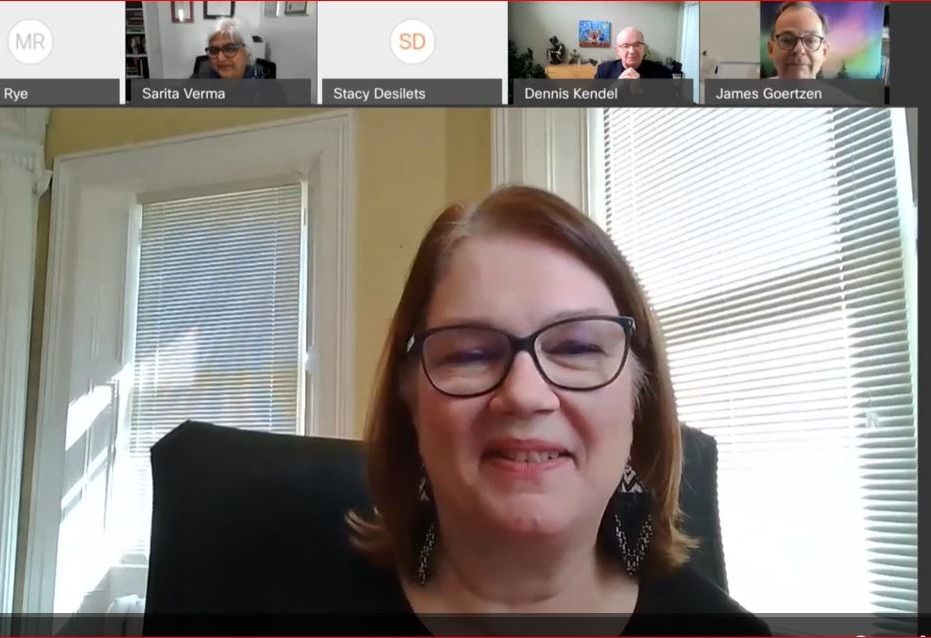 NOSM's best-attended Northern Lights Forum features a key address from Dr. Jane Philpott and Dr. Gigi Osler.
Dr. James Goertzen, NOSM's Associate Dean, Continuing Education and Professional Development (CEPD), spearheaded the 2021 Northern Lights Forum. He and the CEPD organizing team arranged for Dr. Jane Philpott and Dr. Gigi Osler to each provide a key address on the theme of Daring Leadership in Difficult Times. This virtual forum enabled NOSM faculty to join small breakout sessions where they had opportunities to ask questions and interact directly with Drs. Philpott and Osler.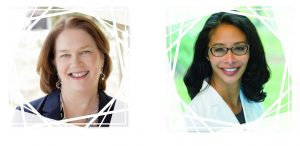 Dr. Jane Philpott is a family physician and former Member of Parliament. Currently the Dean of the Faculty of Health Sciences and Director of the School of Medicine at Queen's University, she offered the following words to participants, "I hope you'll take on the really hard jobs and learn how to deliver on your dreams and on the mandate you've been given in those roles. I hope you'll continue to dare to be an ally for those who need allies, and to admit the privilege that many of us operate under, and to learn from the people around you. I hope you'll dare to make mistakes and learn through them and you'll dare to take a stand."
Dr. Jane Philpott's talk acknowledged the added complexity of leading through an unpredictable future. "Coming out of the pandemic, our institutions collectively and separately need to have daring leadership. More than ever before, daring leadership must actually deliver."
Dr. Philpott highlighted her three essential traits of daring leadership: Vision, Determination, and Humility.  She wove in themes of equity and inclusion, explaining that having a vision is common among all of humanity, however what's not evenly, nor fairly distributed throughout humanity is having access to the systemic supports that are necessary to realize that vision. She encouraged NOSM leaders to recognize the opportunity they have in their roles, "It's a privilege to have the opportunity to advance in the direction of your dream and it's a privilege to be able to do so. With that, comes enormous responsibility."
She also emphasized the importance of daring leaders being willing to be "doers" and exercising both "tenacity" and "dogged determination". Equally important is that they are compassionate listeners who exercise humility. "A daring leader needs to be both a dreamer and a doer… you must be willing to say 'I'm ready to roll up my sleeves. I want to be part of this solution.'"
Dr. Gigi Osler is the Chair of the Canadian Medical Forum, President-Elect of the Federation of Medical Women in Canada, Co-Chair Virtual Care Task Force, Otolaryngology Head and Neck Surgeon, and Former President Canadian Medical Association (CMA). In her address, Dr. Osler shared her personal challenges with imposter syndrome as the first woman of colour to become the President of the CMA. "The idea of the presidency terrified me. But the prospect of contributing to positive change excited me."  In 2018, Dr. Osler became President of the CMA. She was the 8th woman to hold that position, and the first woman of colour since the CMA was formed in 1867.
She spoke about cognitive diversity and highlighted research that suggests better diversity in the physician workforce leads to better health outcomes for patients. "In the for-profit corporate world, they understand this. Companies with more diverse boards have better return on investment than similar companies with less diverse boards."
"The research suggests that better diversity beyond just gender alone, could lead to better outcomes for patients … there's less data looking at factors such as Indigeneity, gender identity, disability, ethnicity, socioeconomic status. But it's important … for example, a recent large population study provides evidence that when black newborn babies are cared for by black physicians their mortality is reduced by 50 per cent. That is the benefit of diversity."
She highlighted that the academic medical community's recent focus on equity, diversity and inclusion "requires fundamental shifts in power. It's easier to fix people (to tell people to develop their leadership skills) and it's harder to fix systems and structures. Telling people to lean in and speak up shifts the responsibility of change from organizations, systems, and structures, to the people with less power. In this time of reckoning and social justice, we have to start having conversations about fundamentally changing systems and structures that were built in a different era," says Dr. Osler.
Her final take away was the importance of being a role model as a black, Indigenous and people of color (BIPOC) leader in medicine. "When I became president, I hadn't truly recognized the importance of representation in leadership until men and women came up to me (and still do) to say they'd never seen someone that looked like them in a position of power; and because of that they could see themselves in those positions of power. And I realized that it's hard to be, until you see."
The Northern Lights forum blended leadership development activities with engaging learning opportunities at NOSM, a strategic priority in the School's plan to innovate health professions education. Those who attended the event said it was one of NOSM's best and most memorable to-date.
"It was exciting to have 53 NOSM faculty members learning with, and opening up on the topic of daring and vulnerable leadership and the concept of learning from failure," says Dr. Goertzen. "Imposter syndrome was mentioned many times and we were all able to recognize that even leaders with a wealth of experience can feel the same sense of emotions as a new or inexperienced physician leader."
Blended learning activities included the creation of two online leadership development modules at NOSM: 1. Introduction to psychological safety 2. Physician workforce diversity and patient outcomes. Post Forum learning will be reinforced with the development of additional educational modules.
A special thank you to Drs. Jane Philpott, Gigi Osler and Dennis Kendel for contributing important perspectives. We also wish to acknowledge the contributions of Drs Zaki Ahmed, Naana Jumah, Joseph LeBlanc, Sarah Newbery, as well as Yolanda Wanakamik as NOSM presenters who grounded discussions in the context of NOSM and Northern Ontario. Successful events are only possible with invisible support behind the scenes and hats off to the CEPD staff who took great care to deliver an excellent virtual forum.