The Art of Treating Patients in French
The Art of Treating Patients in French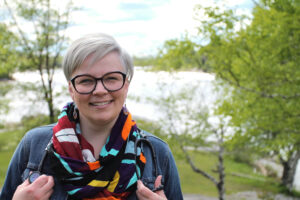 "When I hurt, I hurt in French."
It is hard to imagine receiving health-care services in a foreign language. Dr. Crystal Boulianne, Northern Ontario School of Medicine (NOSM) alumna, is committed to eliminating linguistic barriers that affect the quality of health care for the Francophone population of Kapuskasing. Her efforts are so formidable, that she was awarded the 2019 Family Medicine Resident Award for the Study of Communities Impacted by Health Disparities granted by the College of Family Physicians of Canada (CFPC) through the Foundation for Advancing Family Medicine. Boulianne will receive the award in November, during the CFPC's 2019 Family Medicine Forum in Vancouver.
Born in Kapuskasing, Boulianne was raised in an Anglophone household and attended elementary and high school in the French immersion program. At a young age, she recognized the value of bilingualism in her community. While living and working in the region, she was inspired to learn more about the French language. Driven to grasp the vocabulary, she quickly mastered the language.
For Boulianne, speaking French gives her another outlet to express herself⁠—through the art of communication. To her, the language is both personal and professional.
In fact, Boulianne got so comfortable with the language that during her third year at NOSM, she chose to complete her entire eight-month Comprehensive Community Clerkship (CCC) placement in the town of Hearst, a predominantly Francophone community. While there, Boulianne undertook a research project focused on the health-care services for Francophones who are transferred to larger, predominantly Anglophone center, for specialized treatment. The results highlighted a significant obstacle.
"I heard horror stories of elderly patients being redirected to cities like Sudbury for health care, that arrive by ambulance, and are unable to communicate in their own language," explains Boulianne. "They would come back to Kapuskasing without an understanding of the instructions they had received. Are the services considered available, really available," questions Boulianne. She noted that when follow-up appointments are required, and the patient is steered towards a larger urban centre⁠—like Sudbury, Timmins or Thunder Bay⁠—there is no guarantee that the service the patient will receive will actually be available in French.
Boulianne, who hopes to establish her medical practice following the summer of 2019, remains passionate in her efforts to offer equal medical services for all her patients. Her ultimate goal is to change the way the physicians in smaller Francophone communities transfer their patients to larger medical centers. She says she hopes that someday patients will have the right to demand access to Francophone specialists. To Boulianne, "Active Offer" means ensuring that services in French are obvious, easily available, and accessible for all her patients.
According to the French Language Services Commissioner's Office (now part of the Office of the Ombudsman of Ontario), Active Offer is "the guarantee of the quality of government services offered to the public. For the patients navigating the health care system, active offer is synonymous with safety."
"My husband and I, and even my supervisors, find it funny that I am an Anglophone, and it is me who is fighting to ensure the rights for Francophones," says Boulianne.
From her perspective, Boulianne feels that the nuances of medical care for Francophones do not differ widely from Anglophone care. However, what does differ is how care is planned. By providing Francophone patients with access to Francophone health-care professionals, the linguistic barrier is eliminated.
Boulianne says that although it is difficult to find a concrete solution to ensure equal access to health care, the first step is to normalize the concept of the Active Offer for physicians⁠—to make it commonplace. In order to ensure equal and safe medical services, Boulianne believes Francophones should be informed of their right to receive health care in French and feel empowered to request care in their preferred language.
In the meantime, Boulianne says she is dedicated to blazing the trail.