Dr. Vishaal Bhambhwani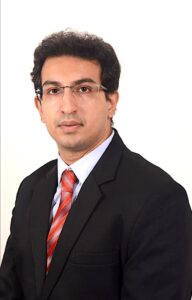 Dr. Vishaal Bhambhwani's research interests include:
pediatric ophthalmology,
strabismus.
Relevant publications:
Bhambhwani V, DeAngelis D, Chen H, Ali A. Rosai-Dorfman disease with corneal anaesthesia: case report and review of literature. Can J Ophthalmol. 2020 Jul 20:S0008-4182(20)30623-2.
Bhambhwani V, Khalili S, Tehrani N, Ali A, Mireskandari K. Outcomes and complications of immediate versus delayed sequential bilateral cataract surgery in children. J AAPOS. 2020 Jun;24(3):137.e1-137.e6.
Bhambhwani V, Al Taie R, Ku J, Mora J. Informed consent for strabismus surgery: the importance of patient information sheets. J AAPOS. 2018 Apr;22(2):89-91.
Dai S, Bhambhwani V, Raoof N. Bilateral superior rectus transposition and medial rectus recession for bilateral sixth nerve palsy. Am J Ophthalmol Case Rep. 2018 Jan 12;9:96-
98.
Seth A, Bhambhwani V, Ghosh B. Unilateral macular chorioretinitis in subacute sclerosing panencephalitis studied by spectral domain ocular coherence tomography.
Saudi J Ophthalmol. 2018 Apr-Jun;32(2):171-173.