Dr. TC Tai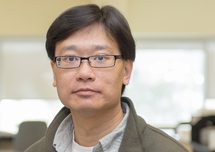 TC Tai, Ph.D.
Assistant Dean, Research
Professor, Medical Sciences Division
Division of Medical Sciences
Northern Ontario School of Medicine
Phone: 705-662-7239
Email: tc.tai@nosm.ca
Dr. Tai's research interests are in brain research, neuroscience, genomics, cellular and molecular neurobiology, cytotechnolology, food and medicinal food sciences, nutrients, oxidative medicine, and physiology and pharmacology.
Dr.Tai graduated from the University of Toronto with a Ph.D. in Perinatal Physiology/Neuroscience.  Dr. Tai is currently accepting graduate students for the Masters of Medical Studies program. Interested students can contact Dr. Tai directly; please include your CV.
Selected Publications
Nguyen P, Khurna S, Peltsch H, Grandbois J, Eibl J, Crisp J, Ansell D,
Tai TC
:
Prenatal
glucocorticoid exposure programs adrenal PNMT gene expression and adult hypertension
. J.
Endocrinology 2015, 227(2):117-27.
Peltsch H, Khurana S, Byrne C. Nguyen P, Khaper N, Kumar A, Tai TC:.Cardiac
Phenylethanolamine N-methyltransferase: Localization and Regulation of Gene Expression in
the Spontaneously Hypertensive Rat. Canadian Journal of Physiol Pharmacol 2015, Oct 15:1-10.
Grandbois J, Khurana S, Graff K, Nguyen P, Meltz L, Tai TC: Phenylethanolamine Nmethyltransferase gene expression in adrenergic neurons of spontaneously hypertensive rats. Neurosci Lett. 2016 Dec 2;635:103-110.
Mercier S, Khurana S, Larivière C, Tai TC, Venkataraman K: Exercise and Antioxidant Intake
in Aging Normotensive and Hypertensive Individuals. J Gerontol Geriatric Med 2016, 2:010.
Williamson CR, Khurana S, Nguyen P, Byrne CJ, Tai TC: Comparative Analysis of ReninAngiotensin System (RAS)-Related Gene Expression Between Hypertensive and Normotensive Rats. Med Sci Monit Basic Res. 2017 Jan 31;23:20-24.
Sreetharan S, Thome C, Tharmalingam S, Jones DE, Kulesza, Lees S, Khaper N, AV, Wilson JW,
Boreham DR, Tai TC: Ionizing Radiation Exposure During Pregnancy: Long-term Effects on
Postnatal Life in Rodent Models. Rad Res 2017 Jun;187(6):647-658.
Tharmalingam S, Sreetharan S, JW, Boreham DR, Tai TC: Low Dose Ionizing Radiation
Exposure, Oxidative Stress and Epigenetic Programming of Health and Disease. Rad Res 2017
Oct;188(4.2):525-538.
Puukila S, Lemon JA, Lees SJ, Tai TC, Boreham DR, Khaper N: Impact of Ionizing Radiation on
the Cardiovascular System: A Review. Radiat Res. 2017 Oct;188(4.2):539-546.
Khurana S, Peng S, McDonald E, Yates W, Venkataraman K, Tai TC: Phenylethanolamine Nmethyltransferase gene expression in PC12 cells exposed to intermittent hypoxia. Khurana S,
Peng S, McDonald E, Yates W, Venkataraman K, Tai TC. Neurosci Lett. 2018 Feb 14;666:169-
174.
Byrne CJ, Khurana S, Kumar A, Tai TC: Inflammatory Signaling in Hypertension: Regulation of
Adrenal Catecholamine Biosynthesis. Front Endocrinol (Lausanne). 2018 Jun 28;9:343. doi:
10.3389/fendo.2018.00343. eCollection 2018.
Davidson CQ, Phenix CP, Tai TC, Khaper N, Lees SJ: Searching for novel PET radiotracers:
imaging cardiac perfusion, metabolism and inflammation. Am J Nucl Med Mol Imaging. 2018
Jun 5;8(3):200-227.
Sreetharan S, Stoa L, Cybulski ME, Jones DE, Lee AH, Kulesza AV, Tharmalingam S, Boreham DR,
Tai TC, Wilson JY: Cardiovascular and growth outcomes of C57Bl/6J mice offspring exposed to
maternal stress and ionizing radiation during pregnancy. Int J Radiat Biol. 2019 Mar 4:1-9.
Khurana S, Grandbois J, Tharmalingam S, Murray A, Graff K, Nguyen P, Tai TC: Fetal
programming of adrenal PNMT and hypertension by glucocorticoids in WKY rats is dose and
sex-dependent. PLoS One. 2019 Sep 4;14(9).
Selected Awards and Accomplishments
6/01 Alfred Pope Young Investigator Award
Department of Psychiatry, McLean Hospital, Harvard Medical School
9/01 Young Investigator Award
11TH International Symposium on Chromaffin Cell Biology
11/01 Partners in Excellence Award, McLean Hospital IACUC Committee
02/05 Young Investigator Award, Psychiatric Research Society
2009 Young Investigator Travel Award, CIHR-ICRH
2013 NOSM Faculty Peer Scholar Award
Selected Grants
2012-2016 Fetal Programming of Hypertension Canadian Institutes of Health Research (PI: $440,000)
2012-2017 Regulation of the phenylethanolamine N-methyltransferase gene by hypoxia Natural Sciences and Engineering Research Council of Canada (PI: $125,000)
2014 Design and Isolation of a Novel anti-PNMT sdAb for Treatment for Hypertension NOSMFA Research Development Fund (Co-PI: $10,415)
2015 Coda8 High Throughput Blood Non-Invasive Blood Pressure Monitoring System NOSMFA Research Development Fund (PI: $5,989.00)
2016 Role of Estrogen on Blood Pressure Regulation and Hypertension NOSMFA Research Development Fund (PI: $5,896.00)
2017-2022 Impact of low dose radiation during late gestation on homeostatic control of
metabolism and cellular function NSERC – CRD Grant (PI: $1,002,069)
2018 Regulation of the PNMT Gene by Hypoxia NOSMFA Research Development Fund (PI: $7,125.00)
2018-2023 Role of ROS in Hypoxia-Mediated Regulation of the Phenylethanolamine Nmethyltransferase Gene Natural Sciences and Engineering Research Council of Canada (PI: $125,000)
2018-2023 Effects of Ultra-low Dose Radiation on Biological Systems NSERC – CRD Grant (Co-PI: $1,988,385)
2019 Role of Estrogen in the Regulation of the PNMT Gene NOSMFA Research Development Fund (PI: $7,125.00)
---