"If you're willing to work for it, you can do anything."
"If you're willing to work for it, you can do anything."
Source: Northern Ontario Medical Journal | Written by: Nadine Robinson
---
"Becoming a doctor can be a sacrifice, but sacrifice pays off. It has opened up so many doors for me to pursue other passions of mine, such as travel. If you're willing to work for it, you can do anything."
---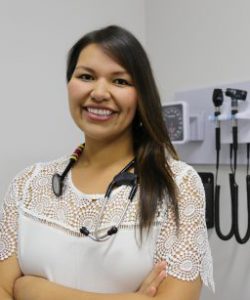 If you ask Dr. Rebekah (Becky) Neckoway what the hardest part of medical school was, it was deciding to apply: "I battled negative thoughts, wondering 'Am I good enough? Can I do this?' And even once I got in, I had to overcome those feelings. I did this by showing up, and doing the work. I know firsthand that self-doubt has the power to kill a dream faster than failure will."
Each passing year and clinical rotation helped confirm that she was good enough, and Dr. Neckoway now practices rural family medicine in Sioux Lookout, spending one week a month in a remote First Nation community.
Hailing from Thunder Bay, Dr. Neckoway enjoys the interesting and challenging work of caring for patients, and she hopes to be a role model and affect the lives of First Nations' youth. This goal was crystallized for her while she was a resident, training in her mother's home community of Eabametoong First Nation. She remembers charting in the office and seeing a young boy staring at her from the doorway: "When I turned to say 'Hi,' his mom behind him said: 'See, I told you your cousin is a doctor!' He smiled and waved and they left. I was touched, and knew that I wanted to be caring for and hopefully inspiring people like him. After all, I didn't know that being a doctor was a career path even open to me as a child. I'd only ever seen white doctors. So I started my career in nursing."
Graduating with a Bachelors of Science in Nursing from Lakehead University in 2009, Neckoway wanted more. "I wanted to understand the patient's illness completely and lead them through their health journey…but also I wanted to become a doctor to show the people who put me down that First Nations' people can do anything. But I knew that bitterness and resentment wasn't the answer. By learning to forgive the people who hurt me in the past I am able to focus my attention on what matters most to me: First Nations People."
Dr. Neckoway's parents instilled the importance of education in her. Her father of Fox Lake First Nation in Manitoba holds a PhD in Social Work and her mother has her Masters in Education. Yet both grew up in First Nation communities without electricity, living off the land, hauling water, trapping, fishing, and hunting. Her mother and father are residential school survivors.
"They supported me, in everything, helping me set my sights on goals and achieve them. They taught me that life is beautiful and it is what you make it… and that the only thing that stands in our way is our thoughts…and some hard work. They are the reason I am who I am today."
Dr. Neckoway graduated from the Northern Ontario School of Medicine in 2013 and completed the Rural Family Medicine residency program at the University of Alberta's Red Deer site in 2015.