"I feel a gravitation to small towns because of what you can do…"
"I feel a gravitation to small towns because of what you can do…"
Source: Northern Ontario Medical Journal | Written by: Norm Tollinsky 
---
"I feel a gravitation to small towns because of what you can do with family medicine in a rural environment," said Francois, who grew up in Terrace Bay and Marathon. "You can work in the Emergency Department, find a niche and gear your practice to that. Plus, when you are working with a team of physicians in a small town, you really work together as a team to support each other."
---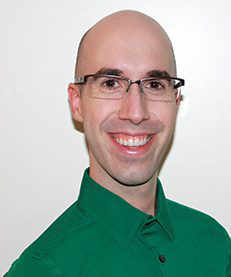 Working as a registered nurse with physicians at the Marathon Family Health Team turned out to be a life-changing experience for Francois Doiron.
"It was really inspiring to see an amazing team of physicians providing such excellent care with limited resources," he confided. "Marathon is a prime example of rural medicine at its best. You have very close relationships with your patients and can have such a positive impact on their lives. That was the main reason I decided to go into medicine."
Francois was accepted by the Northern Ontario School of Medicine in 2013 and was based at the school's Thunder Bay campus. He graduated in June 2017 and matched to NOSM's two-year family medicine residency program in Thunder Bay.
Following completion of his residency, he hopes to practise medicine in a small town somewhere in Northern Ontario.
"I feel a gravitation to small towns because of what you can do with family medicine in a rural environment," said Francois, who grew up in Terrace Bay and Marathon. "You can work in the Emergency Department, find a niche and gear your practice to that. Plus, when you are working with a team of physicians in a small town, you really work together as a team to support each other."
During his four years of med school, Francois and his partner operated a small hobby farm in Kaministiquia, 40 kilometres northwest of Thunder Bay, raising chickens and turkeys. A passion for poultry and the availability of farmland will, therefore, factor into an ultimate decision on where in Northern Ontario they will end up.
A member of the Métis Nation, Francois was particularly touched by a one-month Aboriginal placement with the Eagle Lake First Nation near Dryden.
"It was a really amazing experience," he said. "I grew up in Terrace Bay and Marathon – not on a reserve, so I didn't have a connection with my Indigenous roots. Members of the community were so welcoming even though they didn't know me at all. I was treated like family. Having that experience made me feel closer to my culture."
NOSM's distributed model of medical education also took him to Hearst, where he was based for his eight-month clerkship in third year, as well as to Marathon, Dryden and Mindemoya during his first two years of med school.
Aside from hitting the books and plucking turkeys, Francois enjoys cross-country skiing and hiking in Northern Ontario's great outdoors.