"Believe in your potential for success."
"Believe in your potential for success."
Source: Northern Ontario Medical Journal | Written by: Nadine Robinson 
---
"Tânte kekî iši-wîcihitân anohc?" is something Kevin Brousseau is getting used to repeating. Translated from Moose Cree to English, it means "How may I help you today?"
---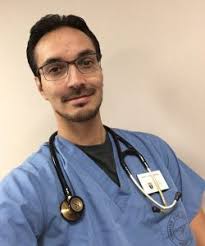 Kevin Brousseau is a medical student at the Northern Ontario School of Medicine (NOSM) in his third year, who speaks Cree, English, and French. His love for language runs deep as he also holds a Master's degree in Linguistics from the Université du Québec à Montreal. He also maintains a blog on the Cree language online.
"All three languages have been helpful in clinical encounters thus far," said Brousseau. "I definitely plan on using the Cree language in my future practice because I want to practice family medicine in a Cree community."
Hailing from Waswanipi in northern Quebec, Brousseau credits his studies in Linguistics for the opportunity to get to know many elders who speak only Cree. Through their stories, he learned key virtues and values that have helped prepare him for medicine. "These elders lived out on the land fending for themselves and their families, sometimes for decades before their modern communities were even built. I am constantly in awe of their stories and have come to appreciate how they epitomize the virtues of kindness, humility, perseverance, hard work, and faith. These values, I try to embody."
Brousseau always had a career of medicine on his mind, but didn't take the proper courses to prepare him for the traditional route to medical school. He was influenced to study medicine by Dr. Darlene Kitty and Dr. Elaine Innes, two Cree doctors from the James Bay region. "I admire them not only for their work in our communities, but for leading the way for the next generation. Their encouragement and advice went a long way towards calming my nerves and preparing me for the road ahead in medical school."
He began applying to medical school in earnest and chose NOSM in 2015.
"The road to medical school definitely required a sustained effort, hard work, and dedication…but things that are worthwhile in life often do," said Brousseau. "I can honestly vouch for the timeless wisdom of taking things one day at a time now as well… I was diagnosed with a brain tumour last year, but thanks to my family, friends, community, NOSM staff, and an amazing neurosurgeon, I managed to stay in the program and even catch up to the rest of my classmates."
When asked what he'd say to the next generation of Indigenous youth, Brousseau said: "Believe in your own potential for success. Yes, the odds are often stacked against you. But those who hold fast to their dreams often notice that the universe has its ways of making things work in their favour."
Kevin Brousseau's list of ten things that have helped lead him to where he is today:
Stay away from drugs and alcohol
Read, read, read, and read some more
Always have a goal – if you reach your goal, make a new one!
Always offer to help
Put effort into anything you do – any task worth doing is worth doing well!
Choose your friends wisely
Always stay humble
Never be afraid to ask for advice
Never forget where you come from
Basic money management skills go a long way – learn how to budget and save!