Orange Shirt Day


Orange Shirt Day, held annually on September 30, is an opportunity for Canadians to learn about the legacy the residential school system. Virtual

Orange Shirt Day Whole School Event Digital Invite
Orange Shirt Day began in William's Lake, British Columbia in 2013 through the work of a residential school survivor named Phyllis Webstad. When Phyllis was taken to a residential school as a six-year-old, she brought with her an orange shirt that her grandmother had gifted her. That orange shirt was taken away from Phyllis when she arrived at the residential school.
Orange Shirt Day encourages Canadians to work together towards reconciliation and to hear the truth telling that comes from the survivors sharing their stories. September 30 was chosen as the symbolic date that represents when Indigenous children were sent to residential school. It is also the start of a new school year, so a good time to set the stage for anti-racism/anti-bullying in our neighbourhoods.[1]
Orange Shirt Day at NOSM
A small group of champions at NOSM have been working to increase awareness about residential schools and the intergenerational impacts. We will be selling unique NOSM Orange Shirts online throughout August and September. Any profits generated from the sales of the shirts will be placed into an Indigenous Student Bursary at NOSM.
Following the inaugural Orange Shirt Day at NOSM, we collected feedback on the learning and awareness this type of campaign can to a School like NOSM. We heard of number of supporters that, although very supportive of the learning and awareness the campaign brought, they did not feel comfortable wearing the Survived. Still here. t-shirt design proudly created by Isaac Murdoch, an Anishinaabe Artist. This type of statement design did not resonate with them personally and hindered whether to purchase an Orange t-shirt because they themselves did not survive or can claim to be still here following the array of social and familial effects political intent policies of Residential Schools. For Indigenous Peoples, it did resonate with them.
To help bring balance and demonstrate that we do take your feedback seriously, we've created a new t-shirt design for 2020 called Truth, which can also be ordered through the NOSM Online Store.
Survived. Still here.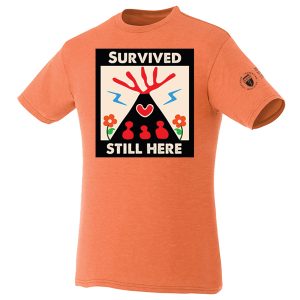 The artwork created for NOSM's Orange Shirt Day campaign comes from Isaac Murdoch and says in bold lettering:
Survived. Still here.
The Orange Shirt Day champions at NOSM hope that the strong statement will give you pause to consider how you can work towards reconciliation in your own life and through your work at NOSM.
The art statement, graciously provided by Isaac, explains his vision for the artwork: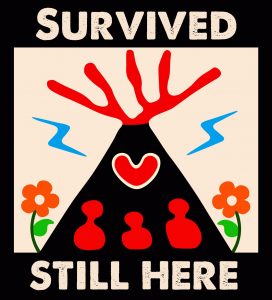 It's no secret the devastating effects the Residential Schools continue to have on individuals, families, and communities. This image is to commemorate the absolute resilience of Indigenous people as they navigate through healing and resurgence for lands. 
The Lodge shown is filled with a family. It is to show that we have full autonomy as Nations over our children, and when we do, we stop the genocide against Indigenous people. The Heart is Love. The flowers represent growth and traditional medicine. These are both needed on our healing journeys. The lightning bolts signify the power of our lodges and the families that sit in them. When people, lodges, and spirit connect, magic happens. 
As Indigenous people, we survived and are still here casting medicine across the earth for healing. Isaac Murdoch, Anishinaabe artist and activist.
Truth.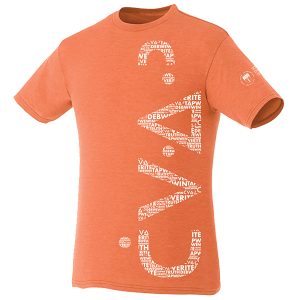 This Truth design in support of the Orange Shirt Day campaign was a collaborative creation in house with community consultation of 6 different languages in Northern Ontario of the word Truth. The whole planning group is very please to share this new design. Both designs are available to purchase this year and we have added more sizing options also in response to feedback received that youth sizes are of interest to purchase as well.
The 6 languages used in this year new second NOSM Orange Shirt Day design:
ᑖᐯᐎᐧᐣ – Cree syllabics
Debwewin – Anishinaabemowin
Tâpwewin – Cree
Tapwe – Michif
Vérité – French
Truth – English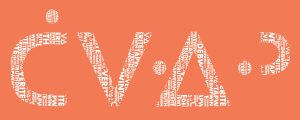 A special Whole School Event (virtually) is being arranged for Wednesday, September 30, 2020 from 1:30 p.m. to 3:30 p.m. Orange Shirt Day Whole School Event Digital Invite Please note, this event is subject to change.
TRC Call to Action #24: We call upon medical and nursing schools in Canada to require all students to take a course dealing with Aboriginal health issues, including the history and legacy of residential schools, the United Nations Declaration on the Rights of Indigenous Peoples, Treaties and Aboriginal rights, and Indigenous teachings and practices. This will require skills-based training in intercultural competency, conflict resolution, human rights, and anti-racism.
"The colonial foundations of our country resulted in a relationship between Aboriginal and non-Aboriginal people that was always unbalanced and unjust. This relationship manifested itself in many ways, including the treatment of Indigenous people as wards of the government, the loss of land and language, and the banning of cultural practices that had sustained the diverse First Nations for millennia."[2]
NOSM Orange Shirts for purchase at NOSM Online Store now.
Interested in making a donation?
Donations can be made in support of Indigenous Educational Initiatives and the Indigenous Bursary Fund. Charitable donation receipts will be issued for all gifts over $25.00.
---