Bienvenue dans la famille des diplômées et diplômés de l'EMNO!
Que vous soyez diplômée ou diplômé de notre programme de médecine de premier cycle, de nos programmes postdoctoraux, du Programme de stages en diététique dans le Nord de l'Ontario ou du Programme de formation des adjointes et adjoints aux médecins, votre relation avec nous continuera bien après l'obtention de votre grade.
Restez en contact
Questions?
Transmettez vos questions au bureau des diplômées et diplômés à alumni@nosm.ca.
Voulez-vous faire à votre tour un geste pour l'EMNO? Faites un don ici.
---
Rencontrez l'équipe du Bureau des relations avec les diplômées et diplômés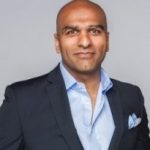 Rahim Dharamsi
Chef de l'avancement
705-562-7774
rdharamsi@nosm.ca

Rahim est arrivé dans l'équipe de l'avancement de l'EMNO en tant que gestionnaire de l'avancement. Il a occupé plusieurs postes dans des bureaux collégiaux et universitaires de l'avancement, le plus récemment à la Ryerson University où il a été directeur du développement pour le compte du service des sports. Diplômé en psychologie de l'University of Windsor, il a obtenu un certificat d'études supérieures en mobilisation de fonds et gestion des bénévoles à l'école des études médiatiques du Humber Institute of Technology & Advanced Learning.