Your Impact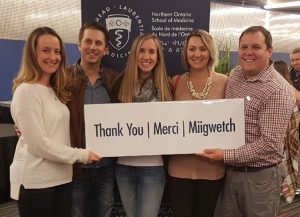 The Northern Ontario School of Medicine's first MD class graduated in 2009. 2019 marks ten years of graduating medical students; to date, 595 students have graduated from our MD program. Our charter class began their studies in 2005 with only a vision of what the school could become. All of them believed that everyone—no matter where they
live—deserves access to quality health care.
Those first graduates have been essential to NOSM becoming rooted in the North. In the ten years since they graduated, some have chosen to serve Northern Ontario communities where they grew up, or that embraced them as medical students and residents. Many NOSM graduates continue to be involved in the School as faculty, administrators and board members, working with us to improve the health of Northern Ontarians.
NOSM students and graduates are making a difference every day in the health of communities across Northern Ontario.  Your support makes that happen.  You are having an impact on our students, our gradates, our communities.
Over the past thirteen years, NOSM has taken root in the North.
Since 2011, 214 NOSM-educated family physicians and 31 NOSM-educated specialists now practice in Northern Ontario
There have been 714 MD and 686 residency program graduates from NOSM.
Since 2007, 135 Registered Dietitians have graduated from NOSM's Northern Ontario Dietetic Internship Program.
Since 2011, 214 NOSM-educated family physicians and 31 NOSM-educated specialists now practice in Northern Ontario