Celebrating Success with NOSM | Célébrons la réussite avec l'EMNO
Celebrating Success with NOSM | Célébrons la réussite avec l'EMNO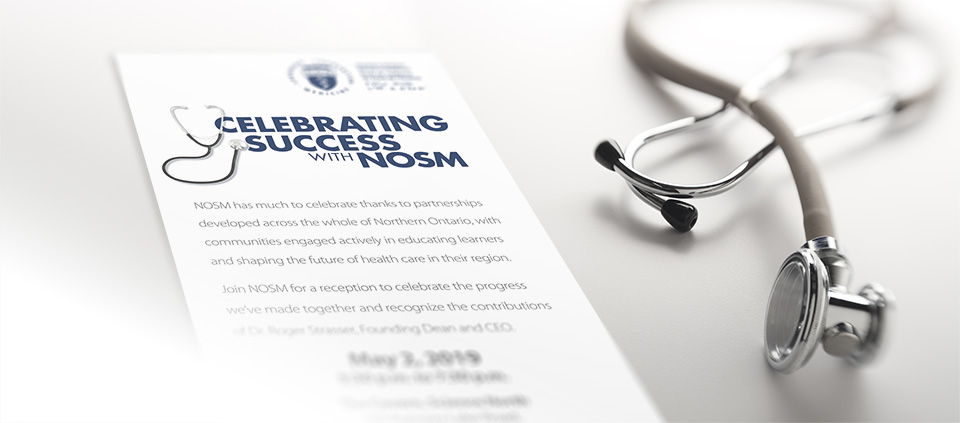 NOSM has much to celebrate thanks to partnerships developed across the whole of Northern Ontario, with communities engaged actively in educating learners and shaping the future of health care in their region. | L'EMNO a bien des raisons de célébrer grâce aux partenariats qu'elle a établis dans tout le Nord de l'Ontario avec des communautés activement engagées dans la formation des étudiants et le façonnement de l'avenir des soins de santé dans leur région.
Join NOSM for a reception to celebrate the progress we've made together, recognize the contributions of Dr. Roger Strasser, and welcome NOSM's incoming Dean and CEO, Dr. Sarita Verma. | Joignez-vous à l'EMNO pour une réception où nous célébrerons les progrès que nous avons réalisés ensemble et les contributions du Dr. Roger Strasser, le doyen fondateur et PDG de l'EMNO, et souhaiter la bienvenue à la doyenne et PDG désignée, la Dre. Sarita Verma.
Wednesday, May 8, 2019 | Le mercredi 8 mai 2019 de 17 h 30 à 19 h 30
5:30 p.m. to 7:30 p.m. | de 17 h 30 à 19 h 30
The Chanterelle
206 avenue Park Avenue,
Thunder Bay, ON P7B 1C2
Make a gift in honour of Dr. Strasser
To honour Dr. Strasser's leadership, dedication and passion to improving access to quality health care for all Northern Ontarians make a gift to the Peter Strasser Bursary or the NOSM Visionary Fund.
Les dons à la Bourse Peter Strasser sont acceptés en l'honneur des accomplissements du Dr. Roger Strasser en tant que doyen fondateur et PDG de l'EMNO.