Celebrating Success with NOSM | Célébrons la réussite avec l'EMNO
Celebrating Success with NOSM | Célébrons la réussite avec l'EMNO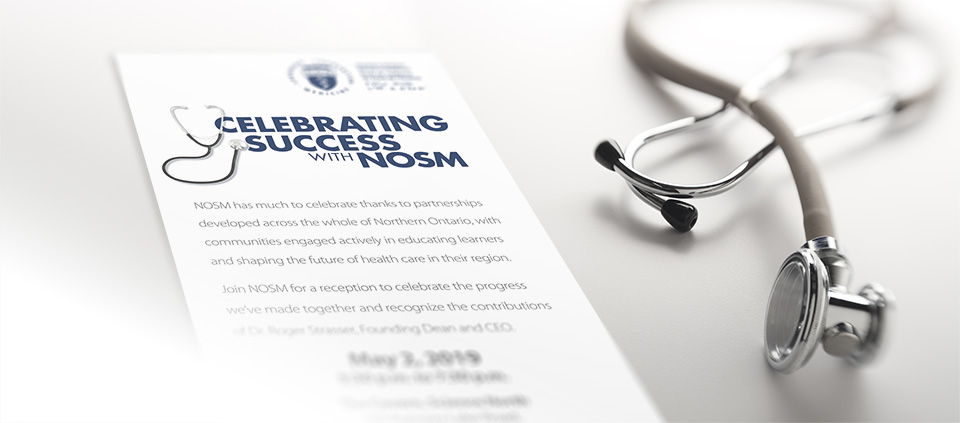 Come and learn more about NOSM and discover the impact we are having in making quality health care accessible to all Northern Ontarians.
We owe our progress to the many people and communities who have embraced our learners, supported NOSM and advocated for improved health services in our region.
Join NOSM for a reception to celebrate the progress we've made together, recognize the contributions of Dr. Roger Strasser, Founding Dean and CEO, and welcome NOSM's Dean and CEO Designate, Dr. Sarita Verma.
Tuesday, May 28, 2019 |  Le mardi 28 mai 2019
5:30 p.m. to 7:30 p.m. |  de 17 h 30 à 19 h 30
The Thorton-Smith Building
The Aperture Room
340 rue Yonge Street,
Toronto, ON M5G 1H1
Make a gift in honour of Dr. Strasser
To honour Dr. Strasser's leadership, dedication and passion to improving access to quality health care for all Northern Ontarians make a gift to the Peter Strasser Bursary or the NOSM Visionary Fund.
Les dons à la Bourse Peter Strasser sont acceptés en l'honneur des accomplissements du Dr. Roger Strasser en tant que doyen fondateur et PDG de l'EMNO.
Click on the photos below for more information on the location of the event.