Incoming Dean and CEO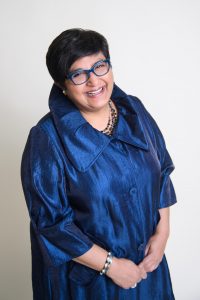 The Northern Ontario School of Medicine (NOSM) is pleased to announce the appointment of Dr. Sarita Verma as Dean and CEO of NOSM effective July 1, 2019.
Dr. Verma is currently Vice President, Education at the Association of Faculties of Medicine of Canada (AFMC) and until January 2016, was Associate Vice-Provost, Relations with Health Care Institutions and Special Advisor to the Dean of Medicine at the University of Toronto. Formerly the Deputy Dean of the Faculty of Medicine (2008-2015) and Associate Vice-Provost, Health Professions Education (2010-2015), she is a family physician who originally trained as a lawyer at the University of Ottawa (1981) and later completed her medical degree at McMaster University (1991)
She has been a Diplomat in Canada's Foreign Service and worked with UNHCR in Sudan and Ethiopia for several years. Dr. Verma is the 2006 recipient of the Donald Richards Wilson Award in medical education from the Royal College of Physicians and Surgeons of Canada; the 2009 co-recipient of the May Cohen Gender Equity Award from the Association of Faculties of Medicine in Canada; and the 2016 recipient of the Charles Mickle Fellowship from the University of Toronto for excellence in medical education.
From 2009-2011, she was one of the lead consultants for the Future of Medical Education in Canada Postgraduate project. For six years she held the position of Governor at the University of Toronto, has been a board member of several teaching hospitals, the Michener Institute, Associated Medical Services and the Chair of the Board of the Canadian Residency Matching Service. From 2011 to 2015, she was the Co-lead for the Canadian Inter-professional Health Leadership Collaborative at the Institute of Medicine's Global Forum on Innovation in Health Professions Education and was a member of the Association of Academic Health Centers International Steering Committee.
"I am deeply committed to serving the people of Northern Ontario, to leading progress in Indigenous and Francophone health and cultivating innovation in clinical research. "I intend to build on these important relationships, with our communities, our partners in health care and education, key stakeholders, and the people of the North, to improve the health and well-being of the people of our region."
Dr. Verma