September 24, 2019

Getting Out There; Speaking Up
Insightful conversations that reach beyond the usual "meet and greet".
Hello. Bonjour. Aaniin. Boozhoo.
Sol Mamakwa, MPP for Kiiwetinoong, Ontario and former NOSM board member, shares many of my views when it comes to long-term strategies to address the health-care needs of Northern Ontario. We had a frank conversation about the role NOSM should play in advocacy and policy influence as we discussed many of the facts about the social determinants of health in Northern Ontario as outlined in my previous blog, "Uniquely Northern".
I had the honour of meeting with Anishinabek Nation Grand Council Chief Glen Hare. We spoke about the need for NOSM to address previous expectations and to work in collaboration in order to increase representation of Indigenous medical leadership. I also spent time with Dr. Christopher Mushquash, an Ojibway member of Pays Plat First Nation. He is also the Canada Research Chair in Indigenous Mental Health and Addiction and Associate Professor of Psychology at Lakehead University and NOSM. Chris, and so many others I met this week are the up and coming generation of our faculty who are working to make a difference. Also, while in Thunder Bay, I met with Dr. Stewart Kennedy, Executive Vice President, Medical, Academics, & Regional Programs at the Thunder Bay Regional Health Sciences Centre. With Stewart, I had a good chat with Urology faculty about growing research and clinical service in that specialty.
A highlight of my time in Thunder Bay was definitely seeing the surprised looks on the faces of the first-year medical students when I dropped in, unannounced, during their classes on medical ethics and law. They are a bright-eyed, vibrant group who genuinely laugh at my jokes; obviously they're ace. Their colleagues and I met up at the Manitoulin Brewery later that week. I love talking to our students.
Our time on Manitoulin Island coincided nicely with the Northern Health Research Conference (NHRC) in Little Current. Before the conference, I was able to meet with Chief Duke Peltier of Wiikwemkoong Unceded Territory, Mary Jo Wabano of the Wikwemikong Health Centre and M'Chigeeng First Nation Band Manager, Sam Manitowabi. I also met with physicians, learners and administrative leaders at the Manitoulin Health Centre in Mindemoya and Little Current followed by time in Aundeck Onmi Kaning First Nation with Pamela Williamson, Executive Director of Noojmowin Teg Health Centre and Craig Abbotossaway, Director of Mnaadmodawin Health Services. I stopped in Sagamok First Nation to visit Elder Eleanor Pine. That visit rounded up a week of new insights with her wise stories and clear warnings about trust and how to be a better leader.
Despite all the great work and successes of the past, we have a long way to go in addressing the significant gaps in access to health care. Though NOSM learners are spending time in these communities learning about the local culture, economic realities, and social determinants of health, there is still a gap. We must look at opening the doors to other MDs, both Canadian grads and IMGS, to access electives and opportunities to practice here.
This was my first time at the Northern Health Research Conference. And, what an eye opener that was. There were fantastic researchers presenting a real mix of all kinds of work being done at NOSM. Innovative models for culturally appropriate research practices in the North, including mobile collaborative ethnography methods presented by Drs. Marion Maar and Darrel Manitowabi, and integrating the voices of Indigenous children as reflected in Ghislaine Goudreau's presentation is ground breaking. This is research that stems directly from the communities, requested by the communities, and directly involving the communities. We also learned about Kristen Cool and Marnie Anderson's work incorporating well-being measures based on the medicine wheel, bringing App innovation to Indigenous children's health. Dr. Liisa Jaakkimainen and Dr. David Marsh gave excellent keynotes that spoke to their work directly connected to our social accountability mandate.
Orange Shirt Day is September 30. I was humbled and moved by the personal stories shared during recent presentations for NOSM's Orange Shirt Day Speaker Series. Thank you to the organizing committee for your thoughtful preparation and miigwetch to Sally Monague, Indigenous Support Worker, and Dr. Lorrilee McGregor, Assistant Professor of Indigenous Health, for helping to lead this initiative. By recognizing Orange Shirt Day, we promote a greater understanding of racism, bias and systemic institutionalised oppression, including the effects and intergenerational impacts on First Nations, Métis and Inuit peoples. I look forward to seeing you on September 30 at noon.
Plans are underway for visits to Espanola, Blind River, Sault Ste. Marie, Wawa, Dryden, and many more communities. The van is loaded and we will be off again after two conferences in Ottawa on faculty development and residency education.
---
As usual, you are invited to follow my journey on Twitter @ddsv3 using #WhereisDrVerma. If you have feedback or ideas about how I can better communicate with you, please let me know by emailing me at dean@nosm.ca or by taking a quick survey here at any time.
---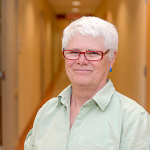 Thank you Dr. Penny Moody-Corbett
With her term wrapping up, I would like to include a special thank you to Senior Associate Dean and Associate Dean, Research, Dr. Penny Moody-Corbett. Her passion and influence in health research has led to remarkable discoveries. Penny, you're incredibly generous and thoughtful. Your leadership and drive has directly led to better health outcomes in the North. Words of thanks hardly sum up how much you've shaped NOSM's dynamic research agenda.
---