President, Vice-Chancellor, Dean and CEO
President, Vice-Chancellor, Dean and CEO
Dr. Sarita Verma, BA, LLB, MD, CCFP, FCFP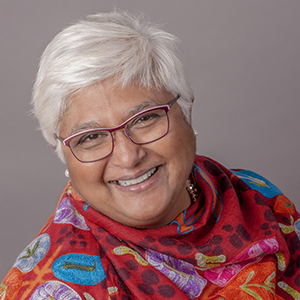 Dr. Sarita Verma is the President, Vice-Chancellor, Dean and CEO of NOSM University. She was formerly the Vice President, Education at the Association of Faculties of Medicine of Canada from 2016 – 2019 and a Professor Emerita in the Department of Family and Community Medicine at the University of Toronto. Until January 2016, she was the Associate Vice-Provost, Relations with Health Care Institutions and Special Advisor to the Dean of Medicine at the University of Toronto. Formerly the Deputy Dean of the Faculty of Medicine (2008-2015) and Associate Vice-Provost, Health Professions Education (2010-2015), she is a family physician who originally trained as a lawyer at the University of Ottawa (1981) and later completed her medical degree at McMaster University (1991). She has been a Diplomat in Canada's Foreign Service and worked with UNHCR in Sudan and Ethiopia for several years.
Dr. Verma is the 2006 recipient of the Donald Richards Wilson Award in medical education from the Royal College of Physicians and Surgeons of Canada; the 2009 co-recipient of the May Cohen Gender Equity Award from the Association of Faculties of Medicine in Canada; and, the 2016 recipient of the Charles Mickle Fellowship from the University of Toronto for excellence in medical education. From 2009-2011, she was one of the lead consultants for the Future of Medical Education in Canada Postgraduate project. For six years she held the position of Governor at the University of Toronto, has been a board member of several teaching hospitals, the Michener Institute, Associated Medical Services, and the Chair of the Canadian Residency Matching Service. From 2011 to 2015, she was the Co-Lead for the Canadian Interprofessional Health Leadership Collaborative (CIHLC) at the Institute of Medicine's Global Forum on Innovation in Health Professions Education and was a key member of the Association of Academic Health Centers International Steering Committee.
A world traveler and leader of national and international projects, Dr. Verma is a recognized scholar in the areas of leadership development, distributed and interprofessional education models, Indigenous health, physician wellness, health human resource and workforce planning, accreditation of health professions education programs, and a superb reviewer and problem-solver of challenging situations. She also excels in the design and establishment of foreign health and education systems, governance and organizational assessments, and in strategic planning and strategic implementation. Uniquely qualified, Dr. Verma brings her skill/strength as an expert in the accreditation of health sciences programs, the rigorous application of social accountability and curricular reform, her outstanding skills in conflict resolution and complex disciplinary issues, and her experience as a diplomat to the resolution of high-risk medical-legal issues and complex collective bargaining.
---
For more from Dr. Verma, please see her blog titled Northern Routes.

---