Office of the President and Vice Chancellor
Office of the President and Vice Chancellor
Dr. Sarita Verma, BA, LLB, MD, CCFP, FCFP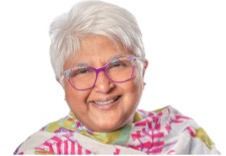 Dr. Sarita Verma is the First President and Vice Chancellor of NOSM University (April 1, 2022) and former Dean, President and CEO of the Northern Ontario School of Medicine. She was the Vice President, Education at the Association of Faculties of Medicine of Canada and is a Professor Emerita in the U of T Department of Family and Community Medicine. Formerly the Deputy Dean of the Faculty of Medicine and Associate Vice-Provost, Health Professions Education she is a family physician who originally trained as a lawyer at the University of Ottawa (1981) and later completed her medical degree at McMaster University (1991). She has been a Diplomat in Canada's Foreign Service and worked with UNHCR in Sudan and Ethiopia for several years. In 2021 she was named one of the most powerful physicians in Canada and inducted into the McMaster University Alumni Gallery.
Dr. Verma is the 2006 recipient of the Donald Richards Wilson Award in medical education from the Royal College of Physicians and Surgeons of Canada; the 2009 co-recipient of the May Cohen Gender Equity Award from the Association of Faculties of Medicine in Canada and the 2016 recipient of the Charles Mickle Fellowship from the University of Toronto for excellence in medical education. For six years she held the position of Governor at the University of Toronto. She has been a board member of several teaching hospitals, namely the Women's College Hospital, North York General Hospital, Trillium Health Partners the Michener Institute, Associated Medical Services and a member of and Chair of the Board of the National Canadian Residency Matching Service. She currently sits on the Board of the Thunder Bay Regional Health Sciences Center (TBRHSC) and the Association of Faculties of Medicine of Canada (AFMC), ICES, Health Services Organization (HSO), Associated Medical Services (AMS) and of the Health Sciences Network Research Institute (HSNRI) in Sudbury. Dr Verma was featured on Matt Galloway's CBC The Current on June 10, 2021 which you can listen to here.
---
For more from Dr. Verma, please see her blog titled Northern Routes.
---
This Office sets the direction for the NOSM University by establishing priorities that support the overall strategy, vision, and mission.
The primary responsibilities include overseeing the operations, communicating and advancing the vision, and developing strategies to ensure NOSM University meets it's corporate, academic and social accountability mandates.
The Office of the President includes the following units:
For more information about NOSM University's bicameral Governance, please visit the University Secretary and Governance section of our website.