First Nations communities of Manitoulin to explore
role of research in reconciliation
First Nations communities of Manitoulin to explore
role of research in reconciliation
Posted on January 31, 2019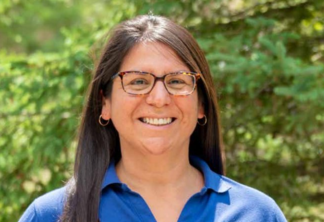 The Manitoulin Anishnaabek Research Review Committee (MARRC) is hosting a research conference February 1-2, 2019, to explore how research can contribute to reconciliation between Indigenous and non-Indigenous communities.
The MARRC, chaired by Dr. Lorrilee McGregor, Assistant Professor of Indigenous Health at the Northern Ontario School of Medicine (NOSM), serves as a community research ethics board for the First Nation communities of Manitoulin Island. The committee evaluates proposed research projects on Manitoulin Island to ensure they respect Anishinaabek values and reflect the communities' vision for culturally appropriate research.
Since it was established in 2001, the MARRC has reviewed more than 60 research projects, a number of them led by NOSM faculty. Researchers involved in these projects have been invited to the conference to present their findings to community members. The conference will also include small group discussions, as well as keynote addresses by Dr. Deborah McGregor, Associate Professor at Osgoode Hall Law School and Canada Research Chair in Indigenous Environmental Justice, and Dr. Cindy Peltier, Chair of Indigenous Education in the Schulich School of Education at Nipissing University.
McGregor said the conference is an opportunity for researchers and community members to come together to learn from one another and better understand what role research can play in the reconciliation process.
"For a long time, our communities had mostly negative experiences with health research, and so the committee was established as a way to ensure that research happening on Manitoulin was ethical from an Indigenous perspective," she said. "This conference is a way for us to build on that vision, and contribute to the larger conversation around research and reconciliation from an Anishinaabek perspective."
The conference is funded through a Social Sciences and Humanities Research Council (SSHRC) Indigenous Research Capacity and Reconciliation Connection Grant. According to the SSHRC, these grants support interdisciplinary events and outreach activities that represent opportunities to engage and exchange knowledge on successful ways of conducting Indigenous research that are transformative and contribute to reconciliation, including holistic, interdisciplinary and distinctions-based approaches.
Date:                 Friday, February 1 and Saturday, February 2, 2019
Time:                9:00 a.m. – 4:30 p.m. EST

Location:         Manitoulin Hotel & Conference Centre
Little Current, ON
For further information, including the schedule of events, please contact:
Kelly O'Brien
Northern Ontario School of Medicine
Cell: 807-633-9634
Phone: 807-766-7473
Email: keobrien@nosm.ca